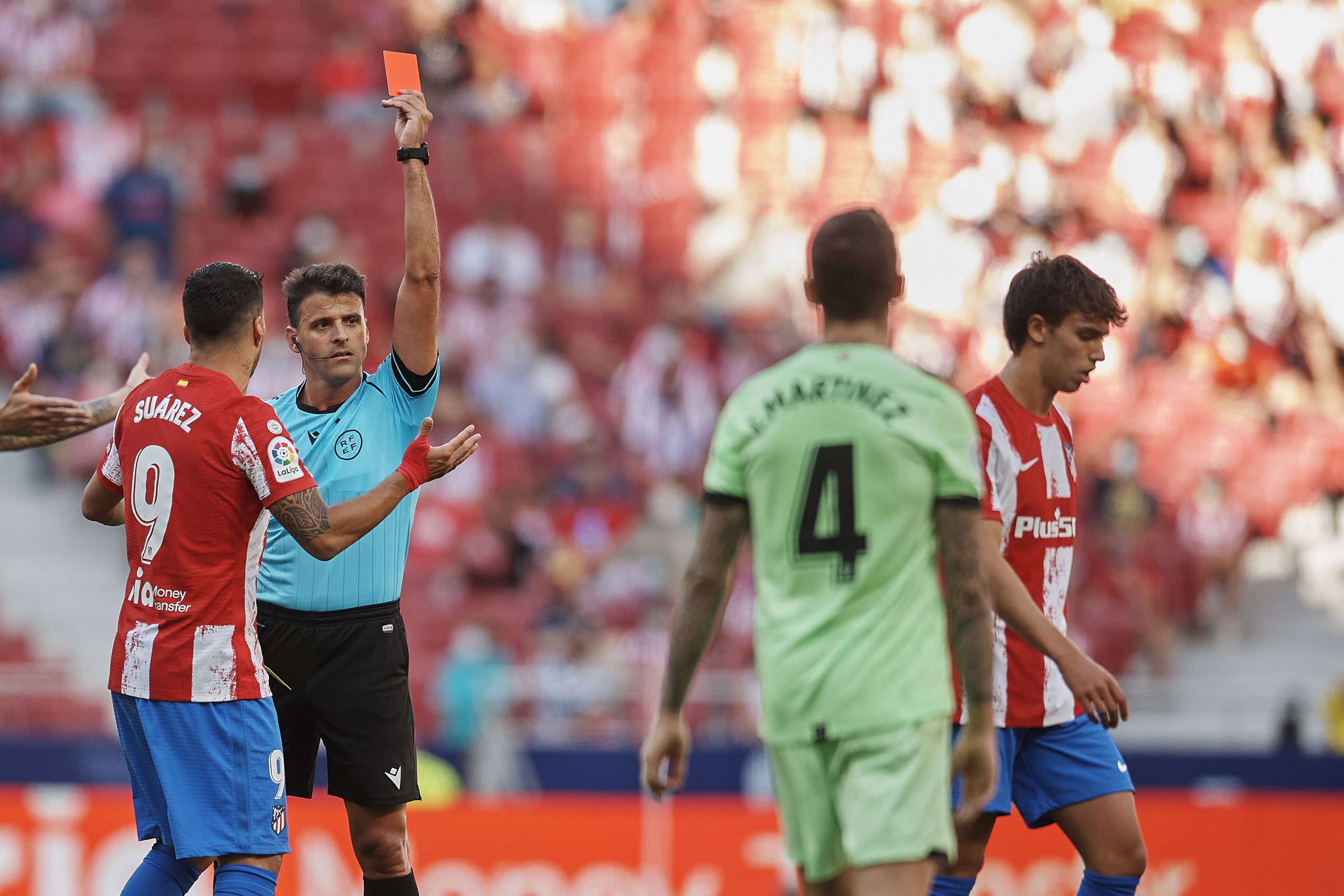 L'international portugais de 21 ans, João Félix, a été lourdement sanctionné par la Liga après avoir contesté une décision arbitrale lors de la rencontre Atlético de Madrid – Athletic Bilbao.
Une lourde sanction à venir pour João Félix ?
Alors qu'il avait initialement débuté la rencontre sur le banc avant de remplacer Ángel Correa à la 60e minute du match, João Félix n'aura finalement pas fait long feu sur le terrain.
En effet, à la 77e minute, l'attaquant portugais commet une faute avec son bras pour se libérer d'un joueur adverse, il se voit alors être sanctionné par un carton jaune par l'arbitre Gil Manzano. Etonné par sa sanction qu'il juge ne pas avoir mérité, João Félix appelle l'arbitre de "fou" à plusieurs reprises. Une réaction que Monsieur Manzano n'aura guère apprécié et brandit ainsi un second carton jaune, synonyme de carton rouge et expulsion du terrain.
Joao Felix was sent off after receiving two yellow cards in the space of ten seconds against Athletic Bilbao 😳 pic.twitter.com/2bTG4M5BTH

— ESPN FC (@ESPNFC) September 18, 2021
Le journaliste espagnol Gonzalo Palafox indique que João Félix pourrait être sanctionné de 4 à 12 matchs, selon le règlement. Une sanction lourde pour une réaction qui aurait pu être évitée par le jeune attaquant portugais.
🚨Pues según el reglamento de 4 a 12 partidos de sanción para JOAO FELIX por llamar "Loco" en varias ocasiones a GIL MANZANO@Radioestadio @RadioestadioN pic.twitter.com/S3Cenn2LoT

— Gonzalo Palafox (@GonzaloPalafox) September 18, 2021